When people ask me how many bridesmaids I have, and I tell them 7, I usually get a "wow, that's a lot of people!" To me, 7 is not a lot, it's just how many best friends I'm lucky to have.  Although 7 bridesmaids and 7 groomsmen do make up a hefty wedding party, I couldn't imagine having my wedding any other way. 
Visit Our Charleston Love to see a brief bio and photo of the entire wedding party!
Choosing the girls for my wedding party was simple, choosing a dress for them to wear was a bit harder. So one night, I got an inspirational lightbulb, so to speak, and decided to give them 7 options to rank. I printed the dresses in color, cut them out into little 'trading cards' and included them in my "Will you be my bridesmaid?" cards. Well, they all ranked one the highest and surprisingly, it was my favorite as well! Almost all of them have tried them on as well and it looks AMAZING on all of them!
The Winner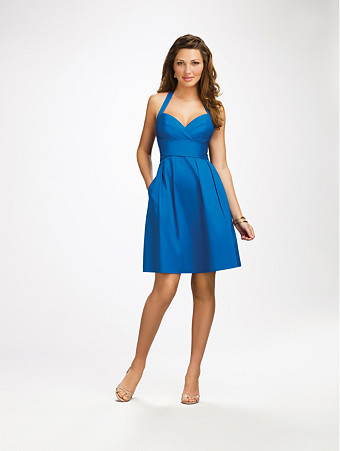 Alfred Angelo
I'm going with white shoes, something a bit different but still very classic.  I'm very obsessed with the Bagley Mischka Randi sandals!
Other brides, I need some advice on jewelry. I'm thinking simple, but a bit more spicy than pearls. Any suggestions?